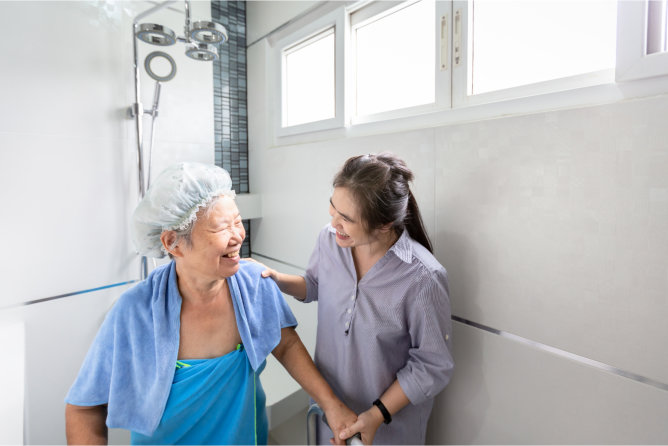 Eton Home Healthcare, Inc., your trusted homemaker in Oklahoma, offers personal care services to help elderly clients achieve confidence. One might think that just because they're old, they don't require styling or having a skincare regimen.
No. Care for one's appearance is relevant no matter your age. Our seniors also need the added boost to feel beautiful and confident every day.
With the aid of our professional caregivers in Broken Arrow, Oklahoma, we can help senior clients achieve personal care goals. However, if you want to learn how to help your loved one yourself, here are our tips.
Use a soft sponge or cloth.
No need to vigorously rub on the skin. Instead, gently run the soapy cloth or sponge along their skin. Get into the nooks and crannies (like skin folds and armpits) to remove excess dirt & oil.
Follow a basic skincare routine.
Buy a gentle formulation cleanser to use during showers or baths. Don't buy anything with drying ingredients, such as alcohol and witch hazel. After cleansing, apply a moisturizer to retain moisture. And finally, sunscreen to protect your loved one from the harshness of UVA/UVB rays.
Clean clothes always.
Aging skin is sensitive, so make sure to dress your senior in clean, comforting clothes. If you need assistance with laundry and other household chores, our home health care experts are willing to lend a hand.
Avoid looking unkempt.
Matted hair and long, unhealthy nails are one of the signs of neglected seniors. As such, make sure to comb your loved one's hair after bathing and cut their nails regularly. Cutting nails can also prevent scratches and wounds.
We hope these tips will help you keep your senior healthy and clean. For more tips, make sure to browse our website!