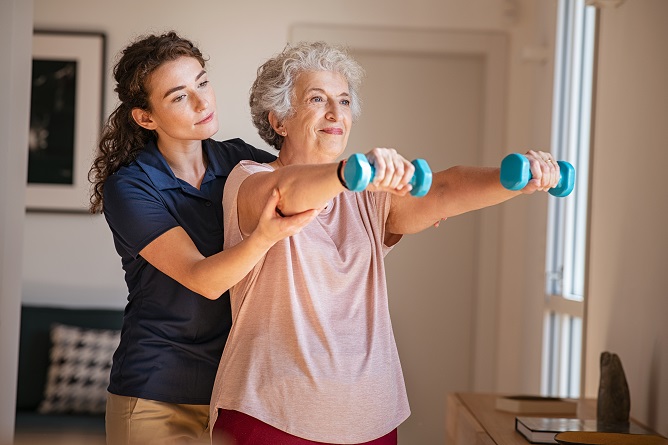 Regular exercise is essential for good health and wellness, no matter the age. It will help seniors remain healthy, strong, and independent at home. Here are a few things families can do to encourage their elderly loved ones to exercise more at home:
Consider Hiring Assistance

Age-related issues and chronic illness can discourage seniors from exercising regularly. Hiring help can make it easier for them to exercise at home. You could hire physical therapists, caregivers, or personal trainers who cater to seniors to help with exercise. Our Caregivers in Oklahoma can also assist your loved ones and supervise their safety while they exercise at home.

Make Exercise a Family Activity

It can be easy to neglect regular exercise if you do it alone. Exercising with loved ones can be an effective strategy to encourage your elderly loved ones to exercise more often and consistently.

Encourage Exercise Through Activity

Exercise is not limited to working out in the gym. Seniors can exercise through recreational activities they might enjoy. Notable examples include taking a walk, gardening, dancing, and swimming. Doing chores at home can also be a form of exercise. We offer Homemaker services to help your elderly loved ones do their chores at home and keep their homes clean.
These are just a few strategies families can consider to help their elderly loved ones exercise more at home. For home healthcare services, you can call Eton Home Healthcare, Inc. at 918-459-9640. Services you can expect from us include Nursing Care, Physical Therapy, and Home Health Care in Broken Arrow, Oklahoma.